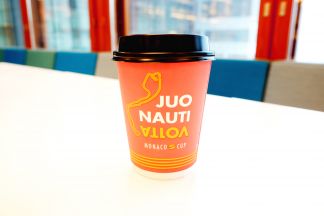 NEWS: Hidden QR Makes This New Cup Hot Promotion Tool!
13-02-2017
Huhtamaki has produced the Monaco Cup, a single-use paper cup featuring a label with a unique QR code that is now for sale at some Shell service stations, restaurants and cafes in Finland.
The new digitalized content and marketing platform makes single-use paper cup a perfect media tool for smart device centered promotional campaigns, says the company. Unique and dynamic QR codes are hidden under heat-sensitive printing and controlled with special digital data and content management software. This project marks the first time that a high number of its single-use coffee cups have been turned into truly smart packaging, says Huhtamaki.
Additionally, the use of heat-sensitive printing provides a secure and eye-catching communication tool. Thermo-sensitive printing keeps the code invisible until usage, safeguarding the promotional content for customers until purchase. When a hot drink is poured into the cup, the heat activates the thermochromic printing on the label, revealing the unique code.
By scanning the code with a mobile device, customers are eligible to win prizes, ranging from a free coffee, to the grand prize of a trip for four to Monte Carlo to see the Monaco Formula 1 Grand Prix. The smart code management software makes sure that each code can only be used once and dynamically changes the digital content after usage.
Finnish creative agency Mediakolmio developed the Monaco Cup advertising campaign and design. The cups arrived in Shell stores just before the New Year and the campaign will continue for a period of approximately three months.
News overview