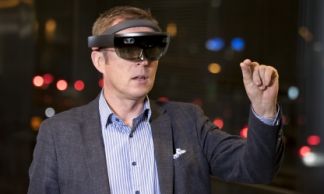 NEWS: Harnessing the Power of QR & AR
21-12-2016
Two Finnish companies working in the Internet of Things (IoT) sector, Sovelto and AIPIA Member Magic Add, have recently demonstrated that wearable augmented reality (AR) devices can scan optically readable unique codes from products in the wearer's environment, which, they say, could simplify and speed up the shopping experience for consumers.
Sovelto used HoloLens, a wearable AR device from Microsoft, to scan unique and dynamic QR codes, generated by Magic Add using Blockchain technology, for code authentication and data security.
For now, this can enable users to access product information, such as origin, nutrition, expiration date and recycling information. In the future, as wearable AR devices become more common and brands build services around this emerging technology, consumers can use AR to change the way they shop. This could include suggesting routes through a store based on the user's shopping list and allowing users to buy products directly by scanning the package.
This use of AR could also make buying Christmas presents much easier by pulling data from the shared profiles of friends and family to find suitable gifts.
Once users are at home, AR can then suggest recipes based on what food items wearers have in their kitchens. Users can add products to their shopping lists, or reorder items just by reading the unique codes on the packaging. Shoppers can also save money by discovering where to get the best deals, as well as improving the customer experience both inside and outside of the store.
News overview