Blockchain from IBM brings trust to Tunisian olive oil…..
| 24-01-2020 |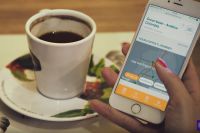 CHO, based in Tunisia, and one of the largest olive oil producers in the southern Mediterranean, has announced that it is using IBM's blockchain technology to provide traceability for its Terra Delyssa extra virgin olive oil. The company is the latest major food provider to join IBM'S Food Trust Network.
Blockchain allows CHO to track Terra Delyssa across eight quality assurance checkpoints, including the orchard where the olives were grown, the mill where olives were crushed, and the facilities where the oil was filtered, bottled and distributed.
Vice president of IBM Blockchain Supply Chain Solutions Ramesh Gopinath explained that using blockchain technology creates a verifiable record of where each bottle of olive oil was produced, along with keeping track of the methods used. "The best part of the IBM Food Trust network is its ability to connect members of the supply chain together. CHO has done just this, as every entity involved can share data, which not only provides traceability and food information, but also shows where food trust is heading in general."
CHO America's CEO Wajih Rekik said, "Blockchain provides an extra layer of transparency that our olive oil is made by Tunisian farmers, which is stated on each bottle's label. CHO wanted to add a layer of trust to its products."
IBM's blockchain technology, which is powered by Hyperledger Fabric, lets Terra Delyssa retailers scan a QR-code on each bottle's label to see a product's provenance record.
Rekik explained that Terra Delyssa's fully traceable extra virgin olive oil is currently being bottled and is planned to reach store shelves in the United States, Canada, France, Germany, Denmark and Japan by March.
Tests performed by the National Consumers League in the USA in 2015 and 2019 show that half of all olive oils found on store shelves contained misleading labels, going beyond issues relating to flavor profiles.
A recent IBM Institute for Business Value study found that 73% of consumers will pay a premium for full transparency into the products they buy. Gopinath also pointed out that, as food fraud continues to increase, the IBM Food Trust Network becomes larger. "The number of Food Trust clients is growing. By the end of this year, we will be much bigger than we are currently. We are linking together the entire food ecosystem to provide transparency and greater consumer trust."
…and IBM blockchain for coffee drinkers too!
At the recent 2020 Consumer Electronics Show (CES), Farmer Connect and IBM announced a new consumer mobile application called "Thank My Farmer," which will allow coffee drinkers to trace their coffee to understand its quality and origin, and even support the farmer who grew the beans.
Developed with leading companies across the global supply chain including Beyers Koffie, The Colombian Coffee Growers Federation (FNC), ITOCHU Corporation, Jacobs Douwe Egberts, The J.M. Smucker Company, Rabobank, RGC Coffee, Volcafe, Sucafina and Yara International, Farmer Connect is a traceability platform powered by IBM Blockchain designed to help increase traceability, efficiency and fairness in the coffee supply chain.
Coffee drinkers today consume more than half a trillion cups per year, and as many as two-thirds of consumers aged 19-24 surveyed say they prefer to buy coffee that is sustainably grown and responsibly sourced. But despite progress by international certifying bodies, there still a lack of knowledge about the need for coffee farmers to earn a sufficient living for their products.
Once grown, beans make several stops, including at coops, exporters, shippers, importers, roasters, distributors, and retailers before finally reaching the consumer. Each participant in this complex system tracks only their small segment of the journey, and each uses its own system to log data. This means that information about the product is fragmented.
"The aim is humanizing each coffee drinker's relationship with their daily cup," said David Behrends, founder and President of Farmer Connect. "Consumers now can play an active role in sustainability governance by supporting coffee farmers in developing nations. Through the blockchain and this consumer app, we're creating a virtuous cycle."
The new mobile application launches to the general market at the beginning of 2020. Users in the USA and Canada will be able to scan QR codes on 1850® brand premium single-origin coffee. European consumers will be able to access the "Thank My Farmer" app through a new single-origin brand, Beyers 1769, roasted at Beyers Koffie
« News feed