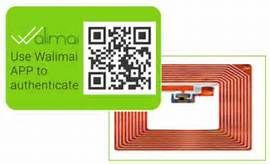 NEWS: Blockchain and RFID Combine to Fight Fake Chinese Milk Powder
05-12-2017
A start-up firm is combining Blockchain with radio-frequency identification in a bid to fight fakes and improve trust in the supply chain of milk powder products in China, according to a recent article in Securing Industry (the article appeared originally in Business Insider).
Walimai, which is based in China, has developed its own specialized RFID anti-counterfeit label that can be scanned with a smartphone app and is linked to Blockchain technology. "Our answer is to apply technology that gives the consumer a tool to tell counterfeits from authentic products at every step in the supply chain," explained Alexander Busarov, co-founder and chief executive of Walimai.
News of the technology development comes almost a decade after China's infamous powder milk scandal where 300,000 children were poisoned by adulterated milk products containing the industrial chemical melamine, leading to 52,000 being hospitalized and at least six deaths. Reportedly, consumers in China are still anxious about buying milk powder, with 53% saying they prefer well-known and established foreign brands of milk powder rather than domestic brands.
"Whenever there is a change of custody, a product with the Walimai anti-counterfeiting label is scanned. Each scan updates the secret codes on RFID chips (and at the back-end), as well as capturing and updating geographical information in the system," Busarov said.
When purchasing, the consumer can scan the label with a smartphone app to view the supply chain history log to ensure the milk powder is genuine. The scan also gives the information on the product, such as where it was produced, what it looks like, how to consume it, and the ingredients.
The RFID labels, which are unique to each product, are dynamic as a result of the updates and changing codes along the supply chain, which makes them impossible to clone or counterfeit, it is claimed. Opening the product or removing the label destroys the functionality of the label so it cannot be re-used for illicit purposes.
News overview