AIPIA Congress Special: Wiliot talks Intelligent, reusable plastic containers (RPCs)
| 07-10-2021 |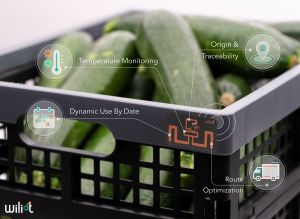 "Make no mistake," says Ohad Perry, director of business development, supply chain, at Wiliot. "Plastic has an important role to play in a more sustainable world. Reusable plastic, 'Smart' plastic, can hasten the creation of a more circular economy, reduce waste all along supply chains, increase food safety and more."
RPCs, often called crates or totes, depending on where in the world you live, can be collapsed to save space, stacked, or even used as displays in stores. When used to transport food, product parts, or finished goods, RPCs can save money over traditional shipping containers, he says.
Now, make those RPCs intelligent with the latest IoT technology and the benefits multiply. Smart RPCs get their intelligence from tiny self-powered computing devices fixed like stickers to containers, product packaging, finished goods—whatever in the supply chain needs sensing. When it comes to transport these devices also can add intelligence to pallets, wooden crates, cardboard, etc.
Each connects wirelessly to an existing or purpose-built infrastructure of low-cost, Bluetooth-enabled wireless access points. They include sensor interfaces to detect location, temperature, and more and then communicate that data to the cloud where companies collect and analyze the information to make decisions. These capabilities can grow as companies need them.
SEE DIGITALIZATION IN PACKAGING AGENDA HERE
A smart RPC is always smart, because the computing device is always charged; there is no battery. So a producer always knows where in the supply chain the product is located and, if perishable, whether it's being shipped at the right temperature.
Wiliot is successfully piloting the use of smart RPCs for shipping zucchini from farm to shelf. A healthy, fresh zucchini looks more appetizing than one that had a tougher journey to the grocery display and is more likely to end up in the shopping bag, explains Ohad. And because it's traceable from farm to table, it's safer. The US Food and Drug Administration (FDA) recently recognized Wiliot, along with its technology partners Roambee and GSM, as a winner of its New Era of Smarter Food Safety traceability challenge. (See the 29/09 newsletter).
Smart RPCs can alleviate 'inventory anxiety' when retailers over-order. A smart RPC of goods, wirelessly communicating its location, condition, and status, can help companies effectively build a 'just-in-time' supply chain that accurately matches supply to demand. In a store environment, RPCs designed to fit well into retail spaces can accurately and automatically communicate inventory levels, temperature, humidity conditions, and make stocking goods easier.
Smart RPCs can also improve the supply chains of other goods, like auto supplies, pharmaceuticals, or other products and parts. When they are cleaned and empty, RPCs return to the beginning of the supply chain, completing a circle that promotes sustainability and saves money and resources. And they don't get lost because of their built-in communication ability.
The challenge now is realizing this vision, according to Wiliot. A smart RPC needs to move among many stakeholders in a supply chain. Each could be operating more efficiently and sustainably. Understanding their role and the critical role intelligence plays in a circular economy is the key to success. Smart RPCs shine a light into the darkness of supply chains. And the impact will be profound, believes Ohad. Come and listen to how Wiliot can make an impact on your business at the AIPIA Congress
« News feed