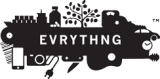 EVRYTHNG (a Digimarc Company)
EVRYTHNG is a Web of Things™ software company, making products smart by connecting them to the Web. EVRYTHNG helps manufacturers connect directly with customers and partners through their own products, using smartphones and intelligent identities for physical products on the Web. The company became a member of the Digimarc Group at the end of 2021.
The technology at the heart of making products smart is the EVRYTHNG Engine which makes it easy to turn any physical thing into a channel for personalized digital services, one-to-one communications and ongoing relationships, tied to transactions.
By making products smart, EVRYTHNG's technology helps world-leading brands get closer to their customers and access real-time data analytics about how their products are being made, sold and used. EVRYTHNG is enabling the Web of Things™ by powering the next revolution in customer interaction and product experiences.
Back to list
Visit website