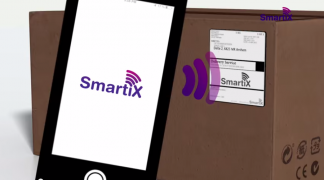 NEWS: Successful 'First Steps' in Internet of Packaging
14-02-2018
Early February saw the first ever consignments of goods using Bunzl's SmartiX shipping label system. Dutch company Verzendverpakkingenshop.nl was the first webshop to implement 'SmartiX', which is based on Near Field Communication (NFC) and offers both B2B and B2C advantages, says the company. With this, Bunzl took it's first step with 'Internet of Packaging' (IoP), it stated.
The customer holds his phone against the special label and automatically receives information about the order. On the first occasion the recipient receives a request to download the corresponding application. For scanning the customer only needs to hold his or her phone against the label and SmartiX works immediately, it is claimed.
Currently the label is working on the Android smartphones. An Apple iOS version of SmartiX will be released in the second quarter of 2018.
Functionalities already available for this client include: User authentication (only the addressee sees the order); Order and product information; Easy access to Customer Service; Help with returning products; Indication if a delivery is incorrect or incomplete; Links to social media from the web store; and scanning as proof-of-delivery.
Possible future functionalities could include: Review of the webshop and products; Payment for the order on receipt; Access to Customer Service via chat; Linking product manuals and instructions; Receive push messages; Loyalty features; View in store; Activation of warranty; plus Reorder, up and cross-selling.
Members of the team who helped to develop the SmartiX label, including Rob Wennink (Bunzl Retail & Industry), Jelmer Tick (Bunzl Retail & Industry), Bart van Geel (Janssen Packaging) and Peter Philippens (IdeAtics) were present at the launch of the new product.
News overview