Smart Packaging Bites
| 30-11-2021 |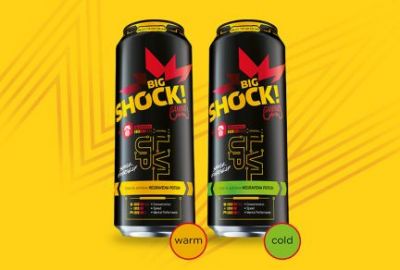 /A USA-based logistics and cold chain risk management system provider SpotSee has introduced a heat-sensitive label as part of its temperature monitoring solution portfolio. The Do Not Refreeze label is designed to help protect the quality and safety of fresh food.
The label is designed to maintain the quality and safety of fresh food products across the commercial food supply chain and ecosystem. The single-use label has been approved for indirect contact and can be pasted on a fresh food product's packaging during production or before it is stored in a commercial freezer.
It initially features light blue text to indicate that the product is yet to be frozen. After freezing below -15°C, the text on the label automatically and permanently shows 'Do Not Refreeze' in dark blue. The technology is designed to allow food handlers to quickly identify temperature-sensitive products while handling large quantities of packs.
/ Leading Czech beverage company Big Shock! Is the first to use Ardagh Metal Packaging's pioneering colour-to-colour thermochromic ink technology. The energy drink producer is showing off the effect on a limited edition 500ml can aimed to appeal to fans of gaming. Set against a black background with dynamic red and yellow graphics, a 'game-loading'-style thermochromic panel gradually transforms from yellow, in ambient conditions, to vibrant green as the contents chill to the ideal drinking temperature.
Ardagh has utilised the colour-to-colourc effect in partnership with CTI, a leading thermochromic ink manufacturer. Building on Ardagh's existing clear-to-colour thermo Impact finish, in which hidden messages or designs are revealed at a pre-defined temperature, the new colour-to-colour option uses special coloured inks to accurately indicate temperature change while offering the chance to enhance graphic design.
/ SavrPak, a US based materials company has launched a packaging prototype that is said to keep take out food deliveries at a safe temperature to prevent bacteria; the plant-based patch keeps food warm for more than 20 minutes and extracts moisture to prevent sogginess. The small patch is placed inside the insulated packaging as it stasrt it journey to the consumer.
Once food drops below 140oF/60oC, bacteria can form on the food's surface. Unfortunately, that doesn't take long for food packaged up in the typical foam or moulded pulp packaging, says SavrPak. It claims the new packaging prototype can keep food above that for more than 20 minutes, which is about the average time it takes to arrive at the customer once it's picked up by the delivery driver. It will roll out in USA and Mexico from October.
/ Caretech Services, a Western Australia based intelligent packaging technology developer, has signed a Development Agreement with LocatorX, an Atlanta, Georgia based location tracking platform provider. LXConnect™. LocatorX's cloud-based tracking platform, provides accurate, inexpensive, and flexible tracking technology to companies across a variety of industries, they claim.
The CTS SIP System technology allows healthcare and veterinary systems to seamlessly integrate their EMR (electronic medical records) and supply chain using intelligent procedural packaging in the form of SmartPack™s and the SIPApp™.
Combining LXConnect with the SIPApp™ will allow Caretech Services to deliver authentication, validation and notification of medical supplies, medicine and other items based on manufacturer-supplied data provided on SmartPacks and provided to LocatorX's software suite.
/ AIPIA member Authentix, the U.S.-based technology solutions provider specializing in digital supply chain security and authentication programs, has been awarded the 2021 President's "E" Award for Exports by the US Department of Commerce. The President's "E" Award is the highest recognition any USA entity can receive for making a significant contribution to the expansion of American exports.
« News feed