Nestlé Vietnam offers Gen Z appeal with SIG QR solution
| 19-08-2021 |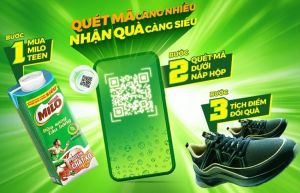 Nestlé is the first company in Vietnam to opt for AIPIA member SIG's innovative QR code closure solution "One Cap, One Code" for one-to-one online marketing opportunities. The aim is to appeal in particular to Gen Z consumers and to strengthen brand loyalty via a differentiated reward program, it says.
Since May, the caps on the popular Nestlé Milo Teen Protein drinks, packed in SIG's combismile carton packs, have included unique QR codes that can be scanned, offering reward pointsto be redeemed online via the Vietnamese messaging application Zalo –one of Gen Z's most used apps.The campaign will run until September 2021.
SIG's "One Cap, One Code" solution – available for SIG's closure combiGo – enables customers to apply QR codes which are not only visible on the package, but also hidden on the inside of the closure. This ensures that thecode can only be scanned after the product has been purchased and opened by the consumer.
SIG claims it is not onlyhelping brands to engage with consumers but also integrate complete transparency into the whole value chain. IoT and smart packaging innovations are opening up new possibilities for both tracking and interaction, and SIG's digital marketing solutions allow every product to act as a data-driven information and media source. SIG's QR code closure solution was first launched in China in 2020.
Vietnam has made a rapid digital transformation in socio-economic development and leads the world ranking with the largest number of internet users. In January 2021 around 73.7 % of the total Vietnamese population was estimated to beactive on social media channels, such as Facebook, YouTube and Zalo. Young consumers are looking for more thanproduct experiences – they want to be entertained, rewarded and informed, which can be enabled via their mobile devices.
Tuan Pham, Brand Manager Milo & Milk at Nestlé Vietnam said, "This new and dynamic digital solution from SIG creates unique, exciting experiences that appeal especially to teenagers. We can already see that this target group is buying more to collect points and get rewards."
This marketing campaign opens up more opportunities for Nestlé Vietnam to further strengthen the positioning of Milo products as the most popular breakfast drinks by scoring more points when consumers scan the QR code between 6am and 10am. Teens are also encouraged to invite friends to collect points and spread the campaign in their community.
Binh Hoang, country manager Vietnam at SIG explained, "The team in Vietnam is a key strategic partner for customers to help them develop and implement digital marketing strategies."
The QR code closure solution can be used as part of SIG's PAC.ENGAGE portfolio that allows food and beverage companies to reach their target audience, leverage powerful market data and grow their emotional footprint with one-to-one communication. PAC.ENGAGE offers a variety of communication options for brands to interact with consumers directly on the packaging.
Flexible modules can be customized for any brand and provide valuable insights and useful consumer data. These promotion pages can also generate more traffic to company's social networking platforms and product sites to increase interaction with the brand andboost sales.
« News feed