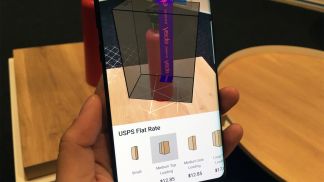 NEWS: Ebay Boxing Clever with AR app
28-03-2018
Ebay in the USA has introduced a new AR-powered feature that helps sellers decide on the best box to use for shipping their items to buyers. The technology works with a range of products, the company says, including everything from car parts, kitchen wares, glass or electrical items.
According to a recent article in Tech Crunch, it is meant to help sellers save time by pointing them to the correct USPS Flat Rate shipping box for their items. Ebay says this technology will helps a seller save time and money looking for the right-sized box. In addition it will provide a real-time calculation of shipping costs.
The feature is one of the first to be built using Google's new ARCore platform, and currently runs only on ARCore-enabled Android devices. The platform is Google's answer to Apple's ARKit and was publicly released in February. It is now available to over 100 million Android devices, including many of the top smartphone brands.
This AR shipping feature also takes advantage of concurrent odometry and mapping to understand the phone's position, and sensors for movement and orientation, the company explains.
The feature can be accessed via the eBay mobile app for Android. Simply open the app and tap "Selling" followed by "Which Box?" The app will instruct the user to place the item on a non-reflective flat surface, like a table or floor. They can then "try on" virtual boxes around the item, to see which one fits best – leaving room for extra padding if the item is fragile.
With the box overlaid on the item, users can change the angle to look down on the box from the top, or look on the sides and the back to see if the item is fitting all the way around.
Ebay says the AR shipping feature, which was built during the company's annual hack week, is only one of several new AR experiences it has in the pipeline this year. An iOS version is also under development, but the timing and feature set is still to be determined.
All about A&IP Summit
June4-5, Jersey City
News overview