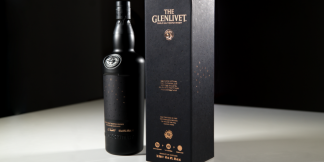 NEWS: Break the Code to Discover the Real Whisky Taste
28-03-2018
A new single malt scotch whisky The Glenlivet Code is coming to market with an intriguing AR tasting experience created in conjunction with Shazam. The whisky, inspired by British code breakers, promises a "labyrinth of flavours that will test the senses of even the most discerning whisky drinker". It will be available in 28 markets from March 2018.
As part of this test, the bottle will have no ingredient information. Instead drinkers are given a Shazam QR code that lets them explore the whisky and its tastes, all in the spirit of decoding the ingredients. Users are taken into a virtual room where they will be greeted by The Glenlivet's master distiller, Alan Winchester. Tasters will be ranked on how well they decode the ingredients in the bottle, a score that can be measured against peers on social media.
The official tasting notes won't be revealed until the end of the year. Glenlivet will hope the air of mystery, the interactive tasting experience and the allure of new tech will draw in consumers to the proposition. Winchester said, "With The Glenlivet Code, we had a unique opportunity to create a whisky that has never been crafted before, using new casks and techniques to push the boundaries of what people expect."
" The interactive experience will allow whisky enthusiasts at all levels to build their knowledge of the category while also developing a deeper understanding of The Glenlivet," he explained.
Miles Lewis, senior vice president, Shazam, commented, "Shazam is ​honoured to ​partner with The Glenlivet ​on such a unique project. The code breakers would have been amazed by Shazam, and now our technology is bringing millions of people an interactive layer to a world-class whisky. Let the code breaking commence."
All about A&IP Summit
June4-5, Jersey City
News overview