AIPIA Virtual Congress 2020 update: Takeda and Kraft/Heinz make the Challenge
| 04-06-2020 |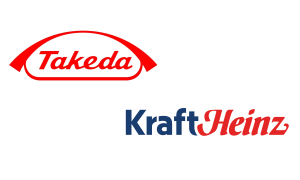 Since its launch in late April the AIPIA Virtual Congress 2020 (10 September) has attracted wide support from all parts of the industry. The Association is pleased to announce that two global brands have agreed to host the Brand Owner Challenges, which have, and continue to form, a central part of the Congress proceedings:
The Takeda Pharmaceutical Company is originally Japanese and continues to be headquartered in that country. Today it is a multinational pharmaceutical and biopharmaceutical company. It is the largest pharmaceutical company in Asia and one of the largest pharmaceutical companies in the world by revenue. In 2019 the merger with Shire Pharmaceuticals propelled it into the top 10 of global pharmaceutical companies.
Kraft/Heinz is the world's 5th largest food company formed by the merger of Kraft Foods and H.J. Heinz in 2015. It brought together two of the best known names in the food sector. The company had $25.0 billion in annual sales as of 2019. In addition to their own Brand names the company manufactures 20 other well know products, including Oscar Mayer, Philadelphia Cream Cheese, Planters and Weight Watchers. Its products are present in more than 200 countries.
Commenting, Eef de Ferrante, managing director of AIPIA said, "We are delighted that two of the most important companies in their respective sectors have stepped forward so quickly to host the Challenges at the Virtual Congress. It demonstrates just how important smart packaging is to the future thinking of the Food, Beverage and Pharmaceutical sectors. Despite all the current issues companies like Kraft/Heinz and Takeda are looking to the future. And the future certainly involves smart packaging!"
Last year Kraft Heinz showcased a smart packaging project with major retailer Walmart, during the AIPIA Congress. Tags developed by AIPIA member NXP and TPG Rewards where incorporated on special Kraft Singles cheese packages. The brightly-coloured, NFC-enabled label invited consumers to tap their smartphone to the packaging to get an offer including recipe content while in store and play the "Find the Golden Single" game for a chance to win a $50 Walmart eGift Card. The company also recently appointed Miriam Ueberall to head up R&D in its international zone.
Details of the Challenges are being developed and will be announced in time for smart packaging developers to apply to make pitches of their technologies to the two Brand Owners.
« News feed