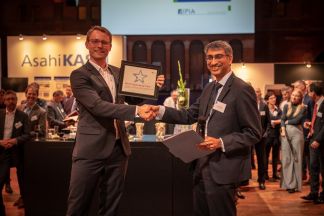 NEWS: A BRANDS CHANCE TO GET 15 PITCHES ON HIGH TECH PACKAGING
05-03-2019
AIPIA Brand Challenges: creating Brand value through high tech packaging innovation pitches

AIPIA, the Active & Intelligent Packaging Industry is looking to team up with a major Brand Owner to run an Active & Intelligent Packaging Challenge during the upcoming AIPIA Congresses.
WHY: More and more major Brand Owners are recognizing that, with the rapid developments in today's digital era, packaging has a unique opportunity to play a significant role in enabling and facilitating connected platforms and providing the consumer with increased engagement and increased confidence/loyalty towards products. So they are looking to integrate Active and Intelligent packaging (A&IP) to enhance the consumer experience, provide traceability, enhance safety and/or security, as well as extending shelf-life or reducing waste.
FORMAT: Based on your brief, around 15 companies will make 4 minute pitches to describe how their A&IP technologies can benefit your Brand. This takes place in a lively and highly interactive Pitch Session at the heart of the AIPIA Congress.
HOW: You set the agenda! The Brand Owner briefs the participants well before the event on the products and outcomes they are looking for from A&IP developers. There can be more than one product, or group of products, and the concepts can be aimed at a specific campaign or a more sustained Brand evolution.
NEXT STEP: Once the Pitches are made you decide which ones you wish to explore further with the individual A&IP developers. All we ask is that, during the congress, you identify a 'Top Three' from the Session. How you go forward from there is up to you. But we will keep in touch and hope we can report on any positive outcomes.
So whether its Beverages, Food, Pharmaceuticals, Cosmetics or Personal Care the focus is on YOUR brand and products!
The benefit to you is that you get a highly efficient and cost effective way to look at new packaging developments to Add Value to your products and Brand.
All we ask is for full visibility for the Challenge within the AIPIA Congress and pre-publicity, as well as the presence of at least 3 of your packaging / marketing staff on Management level as jury. We do ask for registration at the congress.
Previous successful Brand Challenges have involved Heineken, PepsiCo, Bayer and, GSK. Your company and product(s) takes Centre Stage at the congress.
Interested? Mail me:
News overview