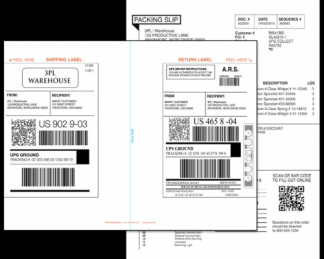 NEWS: On-Demand RFID Printing Simplifies Logistics Tracking
30-07-2018
Pinnpoint, a supplier of self adhesive labels has partnered with RFID inlay solutions provider Smartrac and laser printer manufacturer Lexmark to create 'on-demand ' RFID printing. These solutions allow shippers to automatically view the status of returned goods via RFID tag reads, facilitating the growing reverse logistics model for online shopping, they claim.
The expansion is part of Lexmark's effort to provide a variety of solutions for what it calls a growing number of potential clients seeking solutions for logistics, as well as work-in-progress, according to the article in RFID Journal.
Pinnpoint provides forms and labels for use in the new RFID-enabled printer, as well as offering a full solution that includes software and integration services. The labels, typically sheets measuring 216mm by 280mm, with embedded RFID tags, are designed to be fixed to cartons, pallets, shipping containers or goods being shipped to a customer, or to be packed loose with a product during assembly. Lexmark printers can also support forms from 105mm by 152mm up to 216mm by 356mm, which Pinnpoint can also accommodate.
Forrest Steely, CTO at Pinpoint and a former Lexmark executive, says the company has many years experience with online adhesive label coating. This includes the use of proprietary label materials, including face paper as well as adhesives and liners, to meet requirements for high-speed laser printing in Lexmark devices. "The partnership creates a very cost-efficient industrial solution for printing forms and encoding RAIN RFID inlays," says Amir Mobayen, Smartrac's group CRO.
The growing demand for the printer has been fueled by several trends, according to John Linton, Lexmark's retail and manufacturing industry director. Most notable is the trend for reverse logistics. Brands, logistics providers and retailers are increasingly contending with the return of shipped goods, especially as sales models change. In many cases companies ship multiple product options to customers, who then makes a selection and send the other products back.
More about this at AIPIA World Congress REGISTER!
News overview