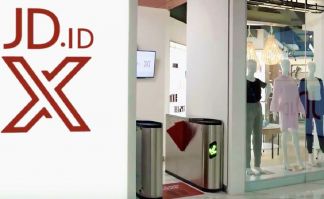 NEWS: Look! No Hands: JD.com's First Unmanned Store Outside China
29-08-2018
Mega Chinese e-commerce retailer JD.com has expanded its unmanned store concept to Indonesia, marking the first time it has unveiled the technology platform outside China. The new JD.ID X-Mart employs various technologies, including Artificial Intelligence (AI), Radio Frequency Identification(RFID) and facial recognition, to enable customers to pick up items and walk out with them, without stopping to pay. So someone can try on a garment and walk right out of the store wearing it.
Customers gain access to the store through their JD.com app, which genertes a ubique QR code. Facial-recognition technology is used to further authenticate their identity. Every item in the store contains a RFID tag, so sensors can capture details of the products they carry as they leave the store. These are then added to the customer's 'basket' and billed to their JD.com account.
The new store is located in Jakarta, and covers 270m², which is currently is the largest retail space to showcase JD.com's unmanned store technology. It offers a range of products, such as fashion and apparel, FMCG, and beauty products. JD.com introduced its online shopping platform in Indonesia in 2016 and now serves 20 million consumers in that country.
It launched the first unmanned convenience store last October in Beijing, where the company is based. It has gradually introduced a wider product range in new stores, it said.
To track shoppers' activities within the store space, cameras track customers' movement, as well as establish heat maps to indicate traffic flow and product selection. These also help determine customer preferences, so store inventory can be optimized, as well as shelf positioning.
Currently the company operates more than 20 unmanned stores across China, which collectively saw a 600% spike in transaction volumes, over the daily average, during the company's recent June anniversary discount day.
More about this at AIPIA World Congress REGISTER!
News overview