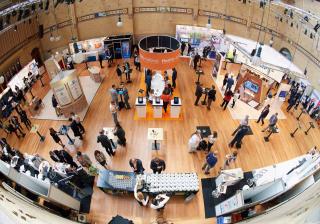 Exhibition
Let's do it different
Dynamics at the Active & Intelligent Packaging World Congress and Hackathon 2017
As well as the usual first class Presentations and Demonstrations on the implementation and technological developments of Active & Intelligent Packaging, AIPIA is going to make the Congress even more dynamic, with a series of HACKATHONS. The Hackathons will involve groups of delegates, experts, speakers and suppliers in interactive sessions where they get together as a team to brainstorm and develop a potential solution. Then we can pool the ideas to go to the next stage.
This is the ultimate way to get in close contact with delegates and work together on a potential active or intelligent packaging solution.
If you wish to present your company and products to the highly innovative AIPIA audience, let us know as soon as possible by filling out this FORM
MARATHON DEMONSTRATION BOOTH
2 Days High Tech Demonstration Area booth (double sized, so maximum presence) . This booth includes: 2 Articles in AIPIA Newsletter (send to 70.000 industry professionals), 1 x 30 Minutes Presentation time slot. Pre-mailing to Registered Delegates. Full Conference proceedings. List of attendees (after the event). Distribution of Pre Show Press Release to AIPIA Press List
AND: 4 Full conference passes! (Coffee / tea breaks, Lunch, AIPIA Party, Proceedings)
Costs: € 7.450,-
SPRINT DEMONSTRATION BOOTH
For two days you will get the opportunity to show and demonstrate your active & intelligent packaging solutions to brand owners, packaging companies and suppliers and meet the AIPIA members at their best moment. AIPIA's audience is New Business Development, Technology scouts, Packaging Technologists and Marketing managers. It's all next generation packaging experts. This is your best chance to meet the highest level peers in this fast developing industry.
AND: 2 Full Conference passes! (Coffee / tea breaks, Lunch, AIPIA Party, Proceedings)
Costs: € 4.750,-
HACKATHON DEMONSTRATION BOOTH
This is your ultimate opportunity to make yourself known as an innovative, open and future minded partner in Active & Intelligent Packaging. With this booth you get a Key Note time slot at the exhibition floor. Your booth will be situated just near the presentation area, so all the delegates will be passing by all day long. Even the backside of your booth will be printed with your logo as well and is visible to all the delegates during the presentation. This is top-marketing. But besides all the above, you will get the chance to chair one of the Hackathons! Together with you, AIPIA will define a project in active or intelligent packaging and invite around 25 delegates from different industries to discuss the project and come up with interesting ideas. This is your chance to expand your network in the most interactive way. Each Hackathon will last 1,5 hour and will take place in a separate room.
AND: 4 Full conference passes! (Coffee / tea breaks, Lunch, AIPIA Party, Proceedings)
Costs: € 14.750,-
A&IP Demonstration Area
BOOKING FORM
Doing business at AIP World Congress
AIP Exhibitor profile
Active Solutions
Bio-Chemical active films
Antimicrobial packaging
Oxygen, CO2, Gas-scavenging
Moisture control
Anti-Oxidation
Temperature Controlled Packaging
Active labels and indicators
Nano-technology enabledpackaging
Intelligent Solutions
Sensors and Tags
NFC Technology in packaging
Printed Electronics
RFID Technology
Track, Trace and Control Systems
Telecommunications
IT solutions, software
Time- and temperature indicators
Hardware (logistical)
Supply chain order,- control- and information systems
Anti-theft devices
Tamper proofing, Anti Counterfeit Systems
Mobile Commerce
Transport & Logistics