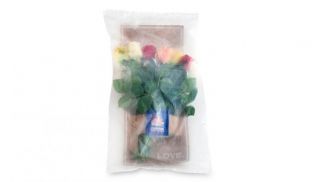 NEWS: Don't water the flowers!
11-10-2018
Waterless Internet Flower Packaging, developed by Indian flexible packaging giant Uflex, has been becoming increasingly popular among global flower companies. It works on the principle of Active Modified Atmospheric Packaging (AMAP) through Flexfresh™, a special patented polymeric film, offering shelf-life extension solution for fresh fruits, vegetables as well as flowers.
The product was the Diamond Finalist Winner at the 2018 30th Awards for Packaging Innovation by The Dow Chemical Company. This award recognizes achievement in innovative packaging design, material, technologies and processes.
The special film is the first 100% biodegradable film that maintains the hydration of flowers during transpiration, thus creating a closed loop system, according to the makers. Flowers are put to slow respiration mode by reducing the oxygen availability preventing excess oxidation and dehydration.
The film keeps the flowers breathing in hydrated oxygen and releases excess humidity keeping them touch dry. The flowers can go without water for a significant number of days as the humidity is fed back and continues to breathe in the modified atmosphere.
Uflex is now offering a film which has worked globally for range of fresh produce and is working on several projects with leading supermarkets and producers, in a wide range of fruits, vegetables and flowers. Flexfresh is now available across several continents and major produce areas. Europe has been using these bags for Asparagus, Broccoli, Blueberries ,Cucumbers, etc. Also there are solutions for tropical products such as Banana, Chillies, Guava, Mangoes, Papaya, etc.
It is currently testing an improved version with high clarity which could replace conventional bags/pouches on supermarket shelves. This could help supermarkets to achieve their sustainable goals in the short term, says Uflex.
Chairman & managing director Ashok Chaturvedi added, "This technology is a major shot in the arm for e-commerce companies . It enables florists and retailers to stock up large inventory thereby leading to enormous savings. The product has a third-party validation by a Dutch Flower Quality Evaluation Company," he said.
More about this at AIPIA World Congress REGISTER!
News overview