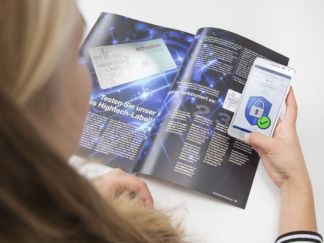 NEWS: Two Smart Packs from Schreiner Created using Printed Electronics
06-07-2018
The ((rfid))-Digital Void Label from Schreiner Group provides electronic tamper evidence and can be read using smartphones. It makes label tampering visible, indicating a potential risk to consumers. Manufacturers benefit as well, because integrated geotracking as a monitoring function allows them to see where their products are used, says the company.
Reading the label requires an NFC-capable smartphone, in the case of iOS devices Version 11 of the operating system. A browser window will show that the label is intact and display additional information. Via a button users can also access the integrated geotracking feature that shows in what regions of the world the label has been read before.
The label indicates tampering in two ways: Peeling the label off the surface produces a void effect as visual tamper evidence. In addition, when scanning the label with a smartphone, a printed electronic sensor signal will indicate a tampering attempt.
Hybrid electronics, RFID technology and digital know-how were combined to produce the label by means of printing technology based on the ISO / IEC 14443 industry standard. It includes NFC Forum Tag 2 conformant Tag ICs with an operating range of up to 10cm. The sample label is a combination of silicon chip and printed conductive track. It includes an invisible sensor of printed electronics that is severed in a tampering attempt. The contactless radio wave transmission via RFID operates via a chip and an antenna. Schreiner Group performs chip programming and encryption in-house. Integration of UHF chips for industrial applications is available. Complementary security features such as holograms, colour-shifting inks or thermochromic inks may be added.
The ((rfid))-Digital Void Label supports a wide range of applications such as interactive advertising, proximity retail marketing, product authentication and product parameterization or on-package and on-product information exchange.
In another development Schreiner MediPharm and Dutch technology company ECCT (Confrérie Clinique) have developed a smart blister pack for digital patient compliance monitoring to enhance medication adherence by clinical trial participants. Using this electronic tool to manage and track processes during clinical trials marks a milestone for pharmaceutical manufacturers, they say.
Medication adherence by participating patients is a key factor for the successful outcome of clinical trials, but often difficult to track. Reportedly 20% of patients do not adhere to the therapy, so increasing the patient population by 60% is necessary to compensate.
By pressing a tablet out of the new blister pack data in real time is generated, such as the type of medication or the time of extraction. This information is automatically stored in the smart package and transmitted to a database via smartphone. Also it can send the patient a reminder to take the medication, to adjust the dose and to assist trial participants with interactive communication.
The smart packaging solution includes printed electronics without impacting the packaging design. A database platform enables diverse data transfers and analyses. Schreiner MediPharm supplies the required expertise in innovative printing technology and ECCT the smart sensors.
News overview