Sealed packs of food get new tech to fight transmissible pathogens
| 08-04-2020 |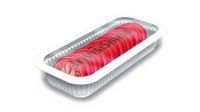 New technology developed by Aptar Food + Beverage, a subsidiary of AIPIA member AptarGroup, has been created to aid the protection of food against several infectious pathogens. The InvisiShield technology will protect food such as fruit, vegetables and fish from transmissible pathogens like bacteria, fungi and viruses, it is claimed.
The solution, which uses patented 3-Phase Acti-Polymer technology, (see also drug packaging solution in our 19-02-20 issue) prevents pathogen growth without adversely affecting the contents, or coming into contact with the product itself. It is activated in sealed packs to release a specific amount of an anti-pathogenic substance that reduces the significant growth of pathogens that may have been introduced along the supply chain.
The substance is not detectable by consumers and disappears up to 48 hours after activation, says Aptar. The technology also means that the risk of cross-contamination in the sealed pack is significantly reduced. It can be incorporated into existing packaging lines, according to the company.
"We have material science expertise which we are applying to food safety solutions at a critical time when consumers are demanding better and healthier food packaging outcomes," said John Belfance, president of Aptar CSP Technologies.
Third-party research has shown that the technology is up to 99.9% effective against the most common food-borne pathogens including E. coli, salmonella, listeria and norovirus. The company is currently focusing its efforts on tomatoes, onions, peppers, pico de gallo and sliced apples, but is working to extend the technology to leafy greens and berries.
A pilot program is currently underway with Atlanta based Royal Fresh Cuts with plans to roll out the product commercially in Q2 2020, once trials have been successfully completed. "We are excited to partner with Aptar as the first to implement InvisiShield technology, which promises to provide increased food safety to our fresh cut produce," explains Kevin Whitehurst, owner of Royal Fresh Cuts.
Angela Morgan, director of business development - food safety solutions at Aptar Food + Beverage said the company is looking for strategic partners to expand access to this technology. "I am very excited about the potential for InvisiShield to change the way the food industry thinks about food safety," she added.
« News feed