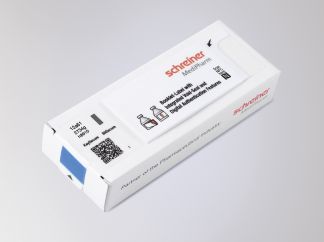 NEWS: Report Say RFID is Revolutionizing Pharma Industry
06-09-2017
According to a recent report from TMR Research the market for RFID in the pharmaceuticals industry is currently at the developing stage, with enormous growth possibilities, says RFID Journal. The study, titled "RFID in Pharmaceuticals Market—Global Industry Analysis, Size, Share, Growth, Trends and Forecast 2017 – 2025," sees the US Food and Drug Administration (FDA) has played a pivotal role in accelerating the adoption of RFID in the drug-delivery market, since the technology helps to strengthen anti-counterfeiting and track-and-trace efforts.
RFID technology is proving its proficiency at managing the supply chain, reducing errors with robust storage of information, enhancing staff efficiency in serving patients and decreasing labour requirements, which helps companies to improve patients' health-care experience, says the report.
Challenges for RFID noted in the report include tampering issues, compatibility, standardization and technical issues, as well as the high cost of implementation. But overall the outlook is considered positive. The global RFID market for pharmaceuticals is segmented into systems and tags for tracking assets, pharmaceuticals, patients and blood products.
Vendors operating in the pharmaceutical RFID market are focused on developing products that not only can improve visibility but are compatible with the delivery package, the report says. Some key companies currently operating in this market are Hewlett-Packard, Alien Technology, IBM, Motorola, Siemens, Toshiba, Zebra Technologies and Texas Instruments.
Leading RFID developers, including Avery Dennison's Bob Pernice, director of market development – intelligent label; NXP's Stefan de Troch, director of product management; NFC Forum's Matthew Bright, chair of the retail and payment working group; and many others will be talking at the AIPIA CONGRESS about some of the many exciting RFID/NFC developments in the marketplace. Several presentations will look at pharma specific issues such as traceability and anti-counterfeiting.
Find information on Bob's presentation here!
News overview