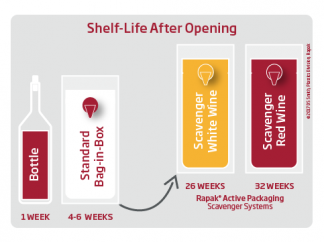 NEWS: Oxygen Barrier System for Bag-in-Box Wines
22-09-2017
Rapak, part of DS Smith, Plastics Division, has developed an oxygen scavenger active packaging system that significantly decreases the oxygen levels on wine bags, increases product shelf-life and provides a premium customer experience, it claims.
Bag-in-Box formats are becoming more popular again, mainly due to and the value it brings, especially with wine. New active and intelligent systems that interact with the food product to extend its shelf life are also trending and have great potential, says the company. So Rapak saw the need to develop an oxygen scavenger bag to complement their low oxygen transfer rate (OTR) Mustang™ wine tap.
The new wine bag is an 'active packaging' system comprised of the ShelfPlus® oxygen scavenger, Rapak ultra-high barrier custom designed 9 layer film, and Worldwide Dispenser's ultra-high barrier Mustang wine tap.
To test the new solution, Rapak partnered with Albis Plastic ―manufacturer of the ShelfPlus® O2 scavenger. The results ―collected from various tests conducted during a twelve month period on 1.5L bags― yielded exceptional results, and has renewed the interest of winemaker's to use bag-in-box formats for higher-end wine varietals.
The system achieved a 26 week shelf-life on white wine and a 32 week shelf-life on red wine, after the bag-in-box was opened. Additionally, Rapak's active packaging system achieved a 9 month shelf-life on unopened white wine and a 12 month shelf-life on unopened red wine in the 1.5L format, according to the test report.
News overview