New partnership helping to connect THNGs Downunder
| 28-10-2020 |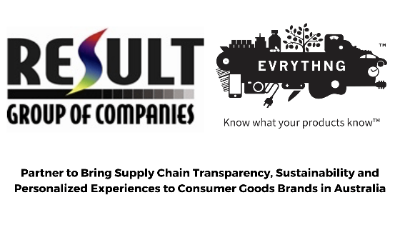 AIPIA member EVRYTHNG, the product cloud managing digital identities for the global consumer products, has partnered with Result Group of Companies, the Australian supplier of product packaging solutions, to accelerate the digitisation of products in Australia, according to a recent report in PKN, Australia's leading packaging magazine.
The partnership aims to help brands deliver on consumer expectations for transparency, authenticity, and personalised consumer experiences via their packaging, say the companies.
EVRYTHNG's Product Cloud links every product item to its Active Digital Identity on the web – joining up item-level data at every point in a product's journey from manufacturing to consumer interaction. Digitised products can provide visibility, validation, and real-time intelligence, as well as connect directly with people, it says.
Result Group general manager Michael Dossor said EVRYTHNG would bring a new dynamic to the way consumer goods brands in the region do business. "Together we are helping brands connect the dots between full visibility into their supply chains and the use of real-time consumer data analytics to achieve sustainability goals and inform marketing strategies," Dossor explained.
"This technology is an extension of our team's 30 plus years' experience in uniquely identifying consumer goods for promotions, the concepts are in our company DNA," he added.
EVRYTHNG EMEA and Oceania senior vice-president Simon Jones said: "Our partnership with Result allows us to expand our reach into a very important market for consumer goods brands. More than four trillion consumer products are made, shipped and retailed globally every year. To reach aggressive sustainability goals like those mandated in Australia, consumer product brands require end-to-end visibility into every product's journey through the supply chain."
According to EVRYTHNG, it is only through the ability to track and authenticate every single item from source and production through to the consumer experience that consumer goods brands can make value chains more responsive, more efficient, and engage their consumer audience directly and at scale through their product.
"EVRYTHNG was founded with a vision to connect every physical product to the web, providing the data intelligence necessary to help this $13-trillion global ecosystem achieve sustainability goals," said Jones.
« News feed