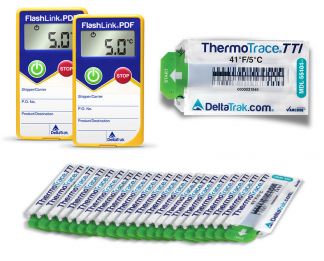 NEWS: New Traceability Kit for Perishable Goods Import/Export
18-09-2017
DeltaTrak® has announced the release of its new ColdTrak Import/Export Traceability Kit at the recent Asia Fruit Logistica event in Hong Kong. This kit includes the new FlashLink Real-Time In-Transit (RTL) logger, the FlashLink PDF In-Transit Logger, and ThermoTrace TTI labels. With this solution, customers have real-time access to temperature history reports, import/export documents and inspection certificates upload into ColdTrak, says the company.
"The FlashLink Real-Time In-Transit Logger is especially beneficial to shippers because they don't have to wait for a receiver to open a container or vehicle doors, find the logger, download it and then email the trip history report." according to Fred Wu, president and CEO of DeltaTrak.
"The RTL is a full featured data logger monitoring temperature, humidity, security (light) and quality (shock). Information is automatically uploaded to the cloud and shared between shippers and receivers," he added.
The ThermoTrace TTI labels included in the kit provide a low cost way for customers to track possible temperature abuse at the pallet level. Customers can download the free application to a smartphone or tablet and scan the TTI barcode label to instantly access information about shipments.
The ColdTrak Import/Export Traceability Kit is easy to activate and deploy, it claims. It is a reliable, low-cost solution for anyone that needs to track and report temperature conditions of import/export shipments and needs up-to-the-minute information on the quality of the products being shipped. The stored data is also available for traceability, audits, HACCP documentation, insurance compliance and FSMA compliance.
News overview