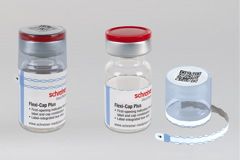 NEWS: New Tear Strip for Pharma Destroys the Label to Halt Re-use
03-11-2016
Schreiner has introduced the Flexi-Cap Plus, a new generation of its security solution said to irreversibly indicate the first opening of primary containers to prevent their illegal reuse with counterfeit substances. The new version features a tear strip running through the label as an integrated element. The result is reported to be enhanced protection against tampering, as the label is destroyed upon initial opening and can no longer be reused as an alleged original.
According to company, illegal reuse of empty medicine containers with original labels poses a major problem to pharmaceutical manufacturers. So-called 'dumpster divers', sift through rubbish for used original containers and fill them with ineffective or harmful counterfeit substances. The alleged originals are subsequently put on the market without revealing any signs of tampering at first glance.
"The enhancement introduced with the new Flexi-Cap Plus is that the tear strip is integrated directly in the label rather than run through the film cap," says Gene Dul, president of Schreiner MediPharm USA "When the tear strip is opened, it automatically destroys the label and makes it impossible to illegally reuse the container with this original label."
The cap can be customized to accommodate various glass container types, shapes, and sizes and is integrated easily into a pharmaceutical manufacturer's existing brand design. Said to be particularly useful for small containers, the lid of the film cap also offers additional space that can be used for imprinting barcodes or integrating NFC chips for interactive applications.
REGISTER FOR
AIPIA CONGRESS NOW
News overview