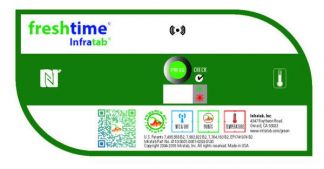 NEWS: New Patents Raise the Game in Condition Monitoring
21-05-2018
Infratab, the USA based provider of radio frequency sensor solutions for perishables, has added US and European wireless Internet of Things (IoT) sensor patents to its worldwide intellectual property portfolio of radio frequency sensors, software, analytics, and cloud solutions. The company is a long time member of AIPIA
The patents cover radio frequency IoT sensor tag architecture, in-tag sensor operating environment and application software, condition metrics for real-time assessment of, and actions related to, the condition of an object and the methods for setting up, calculating, reporting, storing, analyzing and using sensor data by trading partners in the supply chain.
Three of these patents are continuations of earlier Infratab patents. Therese Myers, Infratab, CEO says, "These recent patents reflect our early awareness of the importance of condition-based decision-making, not just to brand owners, their trading partners and users in the cold chain; but also of the importance of condition-based decision-making to those concerned with degradation through measurable wear-and-tear."
The company's Freshtime radio frequency solutions, today RAIN-RFID and NFC-based, with low power Bluetooth (BLE) solutions in development, build upon traditional temperature logging conventions—adding "how is it?" to GS1 cold chain "what," "where," and "when" tracking of perishables, it says.
Dual RAIN-RFID and NFC sensor tags, in which sensor status can be read by either RAIN-RFID readers or NFC smartphones, is the first and only RAIN-RFID sensor tag, it claims. The Freshtime Dual tag enables both high-volume, fast-moving consumer goods companies (FMCG); and low volume growers, small businesses, restaurants, labs and consumers; to get visibility into the quality and condition of the perishables they are handling and using.
Stanton Kaye, President of Infratab, added, "The fourth patent addresses perishables which are removed from a monitored environment for a short period of time and then returned to it. It provides a trusted method for inferring how much shelf life is used while the perishable is out of the monitored environment so that monitoring can continue once it returns."
These Freshtime "Shelfies™," are currently in test with multi-temperature liners for totes, boxes, shelves and pallets.
All about A&IP Summit
June4-5, Jersey City
News overview