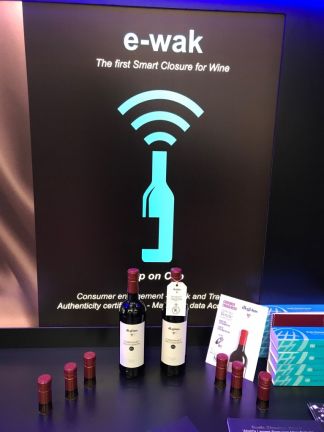 NEWS: First Aluminium Smart NFC Closure for Wine
31-01-2018
Guala Closures chose its participation at the 'Unified Wine & Grape Symposium', in Sacramento USA this January to present what it claims to be the first aluminium smart closure for wine: e-WAK®. It is the first NFC closure dedicated to the wineries, it says, allowing them to start a 1 to 1 relationship with their end consumers.
Just a tap on the cap with a smartphone allows consumers to discover the endless possibilities of the new generation of smart closures, including integration of all wine Apps, VIP club, Loyalty rewards, discounts, in store activities, social media and more.
The NFC tag has been co-developed with NXP® Semiconductors and based on NXP's innovative NTAG® NFC technology. It is protected in the cap and delivers 4 majors benefits:
For the Wine brand owner: Marketing Data acquisition; Logistic, Track & Trace
For the End Consumer: Authentic Bottle Certification; Consumer Engagement with the Brand.
The company has produced a video, available on YouTube to promote the new cap technology.
News overview