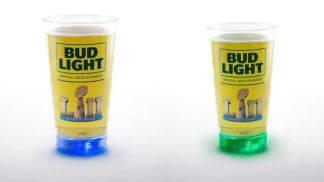 NEWS: Connected Cup Lights Up SuperBowl
14-02-2018
A Melbourne, Australia based company Buzz Connect, was behind one of the most popular marketing features at Super Bowl 2018 - interactive Bud Light beer cups. Almost 80,000 of the beer cups were distributed to fans in the stadium and at select "watch" parties in the USA.
The "Touchdown Glasses" lit up and flashed in team colours every time one of the sides scored. They also lit up when the teams entered the stadium, and for field goals as well as touchdowns. The cups were programmed to light up blue for Patriots scores and green for Eagles scores.
Buzz Connect creates live sports celebration products. The Budweiser deal netted around $500,000 for the business. Co-founder Barry Gold explained "Our guys were in the green room pushing a button to activate certain events that were going on during the day. These products react within a millisecond of a live touchdown or goal, or any event that we want to capture. The company supplies software services, the physical product and running the event. We had 100 university students to put cups on all the seats."
The technology keeps on working once the game is over. "There's a chip inside the cup that used radio frequency inside the stadium to activate it," Gold says. "You can take the cup home and the chip that is inside the cup has a bluetooth module so you can download an app and sync your cup, in this case to the app, and choose your team."
"So for next season you can be sitting at home watching the game and your cup will light up and do different things while you are at home," he added.
News overview