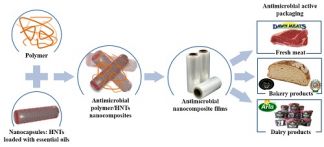 NEWS: AIPIA Part of NanoPack Project to Improve Food Safety
10-01-2017
AIPIA HAS been formally accepted as a partner organization of the EU funded NanoPack project which will develop and introduce nanotechnology-based antimicrobial packaging to enhance food safety and reduce food waste. The project is funded with €7.7 Million under the Horizon 2020 EU Framework Programme for Research and Innovation.
The project aims to develop and demonstrate state-of-the-art antimicrobial packaging solutions for perishable foods based on natural nano-materials that will prevent food-borne illness outbreaks and reduce food waste caused by early spoilage.
The three-year project is aimed at demonstrating, validating and testing food-packaging products with antimicrobial surfaces based upon natural materials. NanoPack will address scientific, technological, economic, safety and regulatory challenges to ensure that consumers eventually will be able to benefit from this novel packaging.
NanoPack is led by the Technion – Israel Institute of Technology. "NanoPack will demonstrate a solution for extending food shelf life by using novel smart antimicrobial surfaces, applied in active food packaging products," said Dr. Ester Segal, NanoPack's coordinator and associate professor at the Technion.
She added that NanoPack would help reduce the staggering 1.3 billion tonnes of food wasted each year, which cause major economic loss and significant harm to the world's natural resources.
"We intend to present better performing, safer and smarter products that will position Europe as the leader in food nanotechnology and smart antimicrobial packaging while increasing competitiveness and growth," Dr. Segal added.
News overview