Sports retailer rolling out RFID tracking across 100 stores
| 22-04-2020 |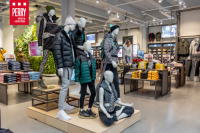 Dutch athletic footwear and sports clothing retailer Sports Unlimited Retail (SUR) has selected !D Cloud software developed by Nedap for the RFID roll-out to its 100 stores in Benelux. !D Cloud is a Software-as-a-Service solution specifically developed for retail RFID applications, giving retailers a fast route to implement RFID and improve their in-store stock accuracy to over 98%, according to the company.
The RFID deployment at SUR will start with equipping all its own merchandise products with Avery Dennison RFID labels during the production phase. Other source tagged merchandise from brands such as Asics and Nike will then be added to the project. The retailer aims to add all leading brands to the project, to have full inventory visibility, regardless of the brand or where the product is in the supply chain.
A proof-of-concept in selected stores confirmed the effectiveness, user-friendliness and scalability of the !D Cloud solution, it says. For the roll-out, all stores will be equipped with the Nedap !D Cloud software and Zebra RFID readers. The roll-out is planned for the second half 2020.
"Our foremost goals are to raise our in-store inventory accuracy and improve the on-shelf product availability, which will lead to improved sales both in-store and buy-online and ship-from-store orders," said Wouter Grob, buying & merchandise director at Sports Unlimited Retail. "When we are ready, we are able to use Display Compliance. This !D Cloud feature allows us to display the 'best' shoes at the right time, based on sales and inventory data."
"It is really exciting to see how much impact RFID can have on the retailer's bottom line by giving real-time insights into inventory levels, the location of products and providing actionable data about which items need to be refilled or replaced," added Bruno Bakker, business developer RFID at Nedap Retail Benelux.
« News feed